5 Best Magnetic Chess Sets for Players on the Move
⭐⭐⭐ Take 8 minutes to read and improve your chess game ➡️ : This article was first published on, and is Copyright of Chessquestions.com
As an Amazon Associate, I earn from qualifying purchases made on my website. In addition, I have many other affiliates' offers on the site.
The top choice magnetic chess set from the reviews on this page is The Hobylife Magnetic Chess Board Set from Amazon
From a starting bundle of 15 different magnetic chess sets ranging from $7.99 to $99.99, the recommended selection came out top for various reasons.
Great Value at the price
Good Quality Materials and Stylish appearance
2 Queen Set for pawn promotions
Foldable and Bagged
Lightweight
Magnetic Chess Sets Compared
| Set | Board | King Height | Foldable | Weight | Price |
| --- | --- | --- | --- | --- | --- |
| HobyLife | 15″ | 2.4″ | Yes | 2.97lbs | Amazon |
| Acacia & Boxwood | 10″ | 1.5″ | Yes | 3.0lbs | Chess Store |
| Amerous | 15.6″ | 2.2″ | Yes | 4.5lbs | Amazon |
| Chess Wallet Set | 7.9″ | n/a | Yes | 0.3lbs | Amazon |
| 10″ Wood Foldable | 10″ | 2.25″ | Yes | 3.0 lbs | USCF Sales |
If you're a chess player who likes to take your game on the road, then you need a travel chess set that is durable and easy to transport. Magnetic chess sets are a great option for players on the go because they can be easily packed up and transported without taking up too much space.
In this blog post, I've selected the 5 best travel and magnetic chess sets available on the market today from a bulk buy of 15 sets I made.
I've unpacked and inspected each chess board, piece, and accessory. I've given them to friends, family, and my long-suffering wife for their opinions! I've played games on them and checked just how sticky the magnets are. It helps when setting the chessboard up.
As you'll find out, one set that made the final 5 selections in this article has not made it back to me, such was its impact on my Uncle.
As I run through each of the final five listed below, I provide links to where you can purchase them online; if you do click a link on this page and end up buying, I may earn a small commission, which goes a long way to helping me purchase and try more products for the reviews you find on this site. And I thank you.
Top 5 Magnetic Chess Sets
Let's look in more detail at the top 5 magnetic chess sets, who they suit the best, and what you get for your money. What is the quality, the price, and the value of each of these contenders for the best magnetic chess sets on the market?
1. Hobylife Magnetic Chess Board Set with 2 Queens
Top of the pile comes the Hobylife Magnetic Chess Board Set with 2 Queens on Amazon, as recommended at the top of the page.
Magnetic chess sets are the perfect way to take your chess game on the go!
This magnetic chess board and pieces are made of high-quality materials and look stylish for any chess enthusiast. It's perfect for anyone who likes to travel and play chess on the go.
The magnets keep all of the pieces in place so you can concentrate on your next move, without worrying about losing any. Plus, as a folding board setup that contains all the pieces and it comes with a carrying case that is convenient to take with you wherever you go.
The chessboard is handcrafted from premium materials.
Lightweight and easy to travel with.
The magnets on the pieces keep them in place.
2 Queen's set for those pawn promotions.
Be able to play your favorite game anywhere.
Enjoy a challenging game with family and friends.
---
2. Acacia & Boxwood Folding Magnetic Travel Chess Set – 10″
Looking for a travel-friendly chess set that won't let you down?
Look no further than the Acacia & Boxwood Folding Magnetic Travel Chess Set from The Chess Store. This top-quality set has everything you need for a great game – including two extra queens for pawn promotion! The individualized compartments keep the pieces in place, while the magnetic chessmen ensure a stable board. And to top it off, the wood case and chessmen are made of acacia wood and boxwood for an unbeatable look and feel. Ready to take your chess game on the road? Pick up our Acacia & Boxwood Folding Magnetic Travel Chess Set today!
Material: Acacia Wood & Boxwood
Closed Dimensions 10″ x 5″ x 2″
Opened Dimensions 10″ x 10″ x 1″
Square Size 1.25″
King Height 1.5″\
Includes 2 extra queens for pawn promotion
Weight 3 lb.
---
3. AMEROUS 15.6 inches Magnetic Wooden Chess Set
Are you looking for a chess set for a distinguished family member who likes a little bit of class?
This good-sized magnetic chess board and pieces, have a fabulous wooden look and replicates my favorite colors for the pieces. It was part of my collection of the boards I purchased for this review until my uncle said he really liked it. I couldn't help but gift it to him. His face was a picture.
The King height is 3″ making this a perfect size set for game enjoyment and a travel option and it also comes with extra Queens for pawn promotion.
Add to that, it folds in half and the pieces are stored within, and we have a set that was running the top choice very close for the recommendation. On that basis, I have to say this is an excellent alternative magnetic chess set and provides equally good value.
Really good size for playing.
King height is respectable for magnetic travel chess.
Folds in half for transport – Pieces stored inside.
Made from wood.
Classic look, color, style, and feel.
Take your chess game on road trips with ease.
The classic look and feel of this set will make you feel like a grandmaster yourself.
---
4. Magnetic Travel Foldable Chess Wallet Set (7.9-Inch)
If you are a chess enthusiast but also like to go hiking, where space in your backpack is at a premium, then this 7.9″ flat magnetic chess set could be the answer.
Taking up very little room in your pack, with flat checker printed magnetic pieces, this set is both a budget option and constructed conveniently with travel in mind.
Easy to carry and store, this travel chess set is totally portable, lightweight, and sufficiently strong to cope with games on the go and you save both money and space.
WARNING: I have to admit, that playing with this set can be a bit fiddly, and it is strange to play chess with what really are checkers! That said, should I have been a hiker, I might have considered this set as a great option to take my favorite game out on the trail with me.
Just 2cm thick when folded
Weighs in at 0.31lbs, which is just 140gms
Perfect for hiking options when space and weight is a premium
Budget option and cheapest on this list
Can be a bit fiddly and strange with checker style pieces
---
5. FOLDING WOODEN MAGNETIC Travel Chess Set – 10″
Looking for a beautifully handcrafted, folding magnetic chess set that's perfect for travel? Look no further than the Folding Wooden Magnetic Travel Chess Set from The House of Staunton. This set is crafted from sheesham and maple wood and features foam inserts to safely store the chess pieces when not in use.
It's also the strongest magnetic travel chess set on the market, so you can be sure your pieces will stay in place during even the most intense games!
Plus, it comes in a sleek carrying case that makes it easy to take it with you and play games wherever you go. Whether you're a seasoned chess master or just learning the game, this set is a must-have for anyone who loves a good board and at least a 2 inch tall King.
King Height2.25" inch / 5.72 cm
Square Size 1.0" inch / 2.54 cm
Travel Set Size 10″ inch x 10″ inch
Things to Consider When Buying a Magnetic Chess Board and Pieces
I feel you have arrived on this page already deciding that you want to buy a magnetic chess set and it is now just a matter of confirming exactly what it is you should be looking to purchase.
I hope the above suggestions have helped you on the journey, but if you still have some doubts, here are some things to consider when making a decision as to which set to buy.
Who is it for?
The type of chess set you purchase will probably differ depending on if you are buying it for yourself or looking for a gift for a friend or family loved one.
Portable chess sets are not something you are going to purchase every day, and when you do get one, whether it be the first, or if you are replacing an old or damaged set, you'll want something that will:
Be suitable for your games needs and last a good amount of time with regular use
Be suitably well made and attractive to look at if it is a gift for someone else
What are you going to use it for?
What is the purpose of your magnetic chess set? Do you want it to take on the road with you, on holiday, on camping trips, or just something to handily carry to somewhere to play?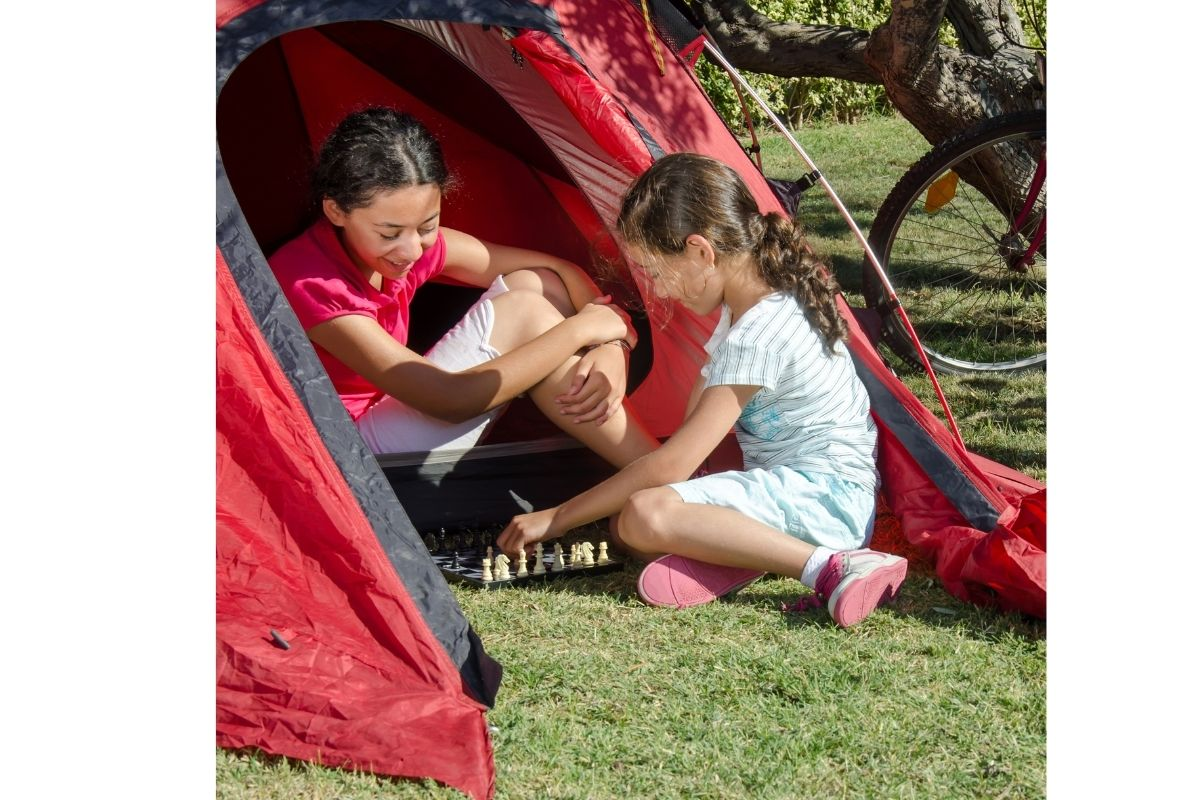 Perhaps, you want a set that you can move from one place to another around the house, without having to pack it away every time, with conveniently magnetic chess pieces that will stay in place as you move it from one location to another.
To be honest, that's a good reason in my house. I'm not the tidiest and if I can leave it set up, and grab it when the mood takes and start playing straight away, that suits me just fine.
But it is also great to have a folding board and storable chess pieces, if I want to take it elsewhere, maybe out in the yard to set up and play at the BBQ!
Price, Quality & Value
One of the most important aspects to consider is how much you want to pay for the magnetic chessboard and your budget restrictions or abilities. Chess sets can come in at quite a range of prices.
It is possible to pick up a budget magnetic chess set for under $10, the pocket type travel chess sets fall into this category, and as you can see on this page with the last 2 options, prices can rise to just under $100
A travel chess set with a magnetic board and chessmen might seem to be a little luxurious when spending over $50, but as with most things in life, you do get what you pay for, in most cases.
Sometimes, however, things are somewhat overpriced which is why, I can personally vouch for each and every set mentioned in this review as I have purchased each, along with many others, which either did not make the shortlist or were, as mentioned, poor value for the price paid.
The complete list of travel chess sets and magnetic sets purchased was 15 both online and in-store, from which this list of 5 was derived. Hopefully, by shortlisting from the selection, you might choose one of the recommended options, and save yourself from picking up one of the dummies that are out there.
Of course, if you do buy through one of the links on this site, I may earn a small commission, which goes a long way to helping me purchase and try more products for the reviews you find on this site. And I thank you
Conclusion
Thanks for reading my blog post on the best magnetic chess sets for players on the move. I hope you found it helpful in your search for the perfect set. My top 5 picks are sure to please, but remember to consider your needs and budget when making your purchase. Have a great day!